November 02, 2023
Stylist Scarlet Chamberlin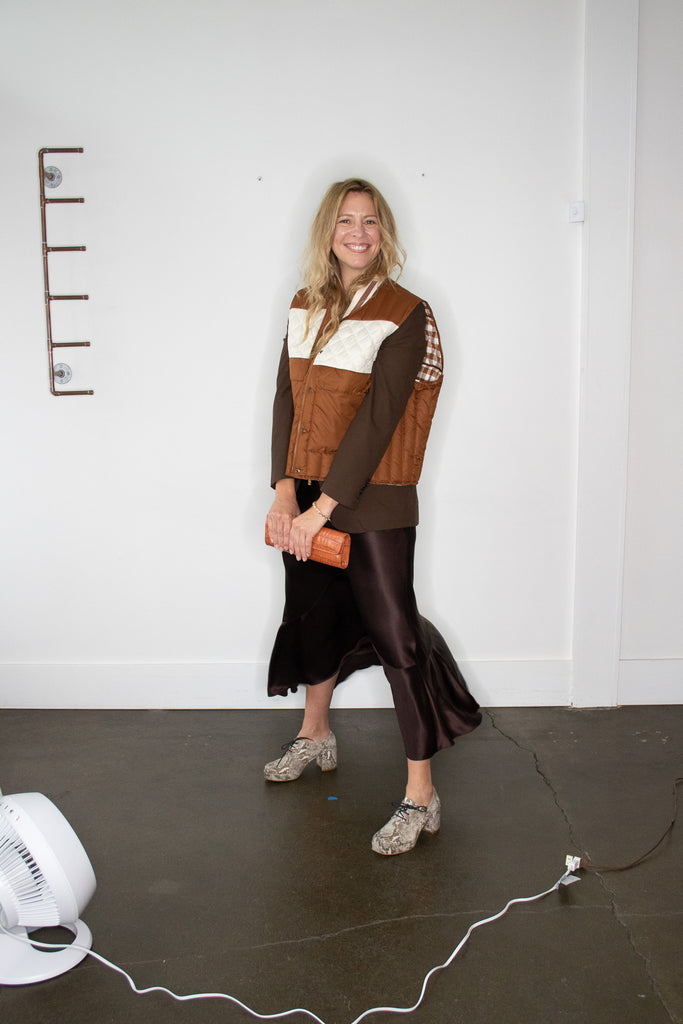 A Chat with Scarlet Chamberlin

If you've been around Portland for a bit, you likely know veteran stylist, Scarlet Chamberlin. Being one of those rare birds who did most of her growing up here in Portland, Scarlet's familiarity with folks in every pocket of the city runs deep. History has something to do with that, but her magnetic energy and smart professionalism don't hurt either.

I was thrilled to play dress up with Scarlet, and sip macchiatos with her on the blue couch for our interview. Here's a peek into her story.

R: When did you become an entrepreneur in Portland?
S: When I was 13. I was making and selling jewelry to boutiques on Northwest 23rd. I would pack them up in little packages and trot down there and talk to the boutique owners….
R: That's wild- and they would sell?

S: Yeah! They'd buy them from me and put them in their cases… I wonder what they said about me, you know, when they're telling the story about the jewelry…

R: When did you stop doing that?

S: When I left for college. I went to Southern Oregon to play basketball and I made jewelry there for the local spa and bookstore. 

R: I know you worked for a time at Leica, but then went right back to working for yourself!

S: I was a massage therapist and a doula. Custom jewelry making got me out of the healing arts when I realized that there's a soul to things like the fashion industry, which can be so soulless. When I was working with women, mostly, but also everyone, I realized that we all have body hang ups, we all have things. And if I can help people feel more empowered and better in their bodies, then I'm doing good work. I started making jewelry for my massage clients and for client's to be talismans for their birth process. And I was like "oh my god, fashion can be more meaningful!"

I met personal stylists, and I realized that that was a job, where I could blend all of my interests into one- the idea of supporting small businesses and designers, utilizing the knowledge that I had about the body and how we're built differently and how draping shapes on our bodies can create an interesting composition.
R: That's something I see at the shop- I feel like a lot of people come in and are pretty set on what they like and don't like. And sometimes for fun, we pull random things for people that they would never choose. And they go home with them! They get out of the box a little bit! So it's interesting to talk to a professional stylist because you are literally in your client's closets and empowering them to step outside their box. 
S: Yes, right. Exactly. And sometimes it's taking the shapes that they're familiar with and used to wearing in a certain way, and switching things up a little bit to show them that there are more opportunities within their existing closet. And I think, like here at the store, people feel like they can play- they're encouraged to play and explore and be adventurous and discover a new side to themselves… or that they can pull something off they've thought they "couldn't pull off", because they have the support and encouragement and creativity that you guys show.
R: Totally! A unique thing about what you offer is that you provide access to shops and brands that people don't necessarily have time or the capacity to find on their own. Can you talk about that a little?
S: When I first started, people had no idea that cool stores existed in Portland. Of course, we know that there are plenty, but at that time, it felt like most of my clients were primarily shopping at big department stores like Nordstrom and wanted to find a new and different experience. So I was able to show them some gorgeous boutiques that fit their lifestyle and would be the kind of place that they could go into and find something they knew they liked, and be supported by the staff. More recently with COVID, people got used to shopping online, and small business owners and designers also got more of their work out via online, because they had to. So now it feels like the clients who are drawn to me are more savvy, and are more educated about what's out there. What I do now, is help them navigate the infinite options available to them- we know sizing is all over the map, and materials are all over the map. I help people focus on what they need, versus what's flashy and exciting or what they're used to buying. And make a more strategic purchase that they will wear for years and years.
R: Right, and that doesn't necessarily mean you need a ton of things in your closet.
S: Correct, you do not need a ton of things in your closet. I think when you have the right things you can really mix and match. I love packing, for instance, a small amount of clothing and making them work together. It just helps your brain kind of get out of the box and try new things when you kind of limit or put constraints on your wardrobe.

R: Well that's a good segue into talking a bit about travel! I mean, you and I have traveled a fair amount together, and it's so fun. How is travel important for you and your life?

S: After giving up the studio this year, I decided to be a woman of the world and spend more time outside of Portland. Last winter, I took a group of women to Mexico City to go shopping. It was fantastic, we had the best time. My favorite part of the experience is that the women really bonded. I think many were nervous about going on a trip where they maybe didn't know anyone, or going to a foreign foreign country for the first time, or for many of them, since COVID. We curated the most lovely experience of food and wine and shopping local designers who are doing brilliant work.

R: Do you have relationships with these designers?
S: Yes. Some of them I've visited before in Mexico City. They were super open and really interested in engaging and spreading the word about the work they're doing. Several of the designers we visited are employing traditional craftspeople to create the handiwork, and their story is embedded into the designs. They're passionate about people from Mexico wearing these pieces and reconnecting with their heritage through their garments. They're also excited about getting the word out to consumers all over the world! 
R: Wonderful. Do you have a highlight from that trip?
S: The very final night when we were on the rooftop of the house the women were staying in. We were having snacks and wine and it was a beautiful sunset. We organically, without any sort of prompting, ended up in a circle, like women often do, sharing our takeaways from the week. It was just a phenomenal evening of great storytelling and tears and laughter and all of that jazz. 
R: And I'm sure everyone was looking fabulous as well…
S: So that was my human highlight, my heart highlight! My stylist's highlight was that I assigned a theme each night for the restaurant we were going to. The ladies had time to go home and change before dinner so everyone dressed thematically. I would get to the restaurant before everyone else, so I got to sit there and watch them walk in in all their gorgeous clothes, just feeling themselves too, like, it was such a sensual experience that week!  
R: And I will say it's so powerful! I've experienced this with you, and traveling with a group of women feels really good. Like it's just a different type of experience where you basically are the party. Like you don't even need anything else. You know, it's just done, vibes. Are these trips now part of Scarlet Chamberlin Styling Co?
S: Yes, we're going again in 2024! We have a waitlist and the group of women that's forming- it will be fantastic!
R: Where do you personally love to shop in Portland?
S: Una is my number one, always and forever. I love shopping at Halo. I love Vein of Gold of course and Superette is super fun. I love going into Twist and looking at the jewelry. I think a misconception for stores like Twist and Marios in Portland is that there isn't anything we can afford. And it's not necessarily true. There are more and more often a range of price points being represented, which is nice.

R: You are a seasoned stylist at this point, and one of the things that I love about you is the community you've created around the fashion/creative/design world. You've produced so many cool, edgy events over the years, and you'll be hosting your 4th annual Stylist Sale in a couple of weeks. Tell me about that.

S: The word stylist has kind of expanded over the years. We have Gretchen Jones participating, who's a clothing designer, but much more than that, and she's brilliant. And then Britt Howard of Portland Garment Factory who has been designing clothes for a very long time. I had a Jumpsuits in July event with them in like 2013- it was a long time ago! The other stylists involved are friends or peers who have their own strong sense of style and work in the fashion world, whether it's retail, personal or commercial styling. We are all selling our personal pre-loved wardrobes! 
R: That's exciting. It's such a fun kind of voyeuristic event because you get to peek into people's wardrobes! And see what they think is cool! Do you have any style icons?
S: I've loved following people like Giovanna Battaglia and Caroline de Maigret, these types of European models and editors over the years, because I just love the way that they can make things look effortless. I like to see someone with disheveled hair and an outfit where maybe there's a hole in it. It's just human and you pull it off, it feels natural. It feels right. I think now we're flooded with influencers and things like that, where everything always looks new, and they're being given clothes and their shoes are always clean. Everything is perfect. For me, that's like walking into a house that's been redecorated all at once with all brand new furniture and there isn't that kind of mix and match of ages and the patina that comes with time. Like, for instance, heirloom cowboy boots that you've traveled all over the world in. 
R: There's no soul to it.
S: There's no replacement for that. You can't fake that. So as far as my icons go, I like to see everyday women. I like to see people on the street, feeling themselves. And I like to tell people, "you look amazing!" Because it's that confidence and creativity that is most inspiring to me now. It's like their personality is coming through, and that's what I hope I'm cultivating with my clients. And when I speak to groups and when I work on photoshoots, or do corporate engagement, I always love to connect with the people one on one to make the fashion side of things personal, and help them shine and glow and maybe take a nugget home with them that goes way beyond trends. It's more about that creativity and confidence. 
R: Right. You're not just pulling outfits out of the box, you're really catering towards personality and lifestyle and comfort.
S: Comfort is huge.
R: How would you define your personal style?
S: Oh, I'd say adventurous, like I'm a bit of a chameleon. I like to play and explore. That being said, I know what shapes make me feel the best, I know what my capsule wardrobe would entail. Like I love a jacket. I love a strong shoulder that's tailored down my torso and a little bit roomier in the hips because that's what suits my body type. And I know if I have several T-shirts or tanks that I can throw that over, and I'm good. I start from the ground up. I start with, "what shoes do I want to wear today?"  and "what bottoms are fitting me well?" I am addicted to nice feeling fabrics and am more sporty than I think I was for a while because I've been lifting weights all the time!  But you know, I was a basketball player and I love surfing and I love dancing. I love being in clothes that I can of move in and squat in, whatever…

R: You're basically always dressed to be ready for a dance party.
S: I'm always dressed to be ready for a dance party! Also I can dance in practically anything, so I'm not super limited! I think many of my clothes would be considered pretty glamorous for Portland, and I wear them often. But I also have parts of my day where I'm very comfortable in nice sporty stuff, too. So it's a nice balance for me.

R: I know your late mother was in the fashion world. Do you think that had an influence on you in your pursuits?
S: I think it would be impossible for it not to have had a big impact on me. But you know, she passed away when I was 11. So it wasn't like I had a long time with her but I remember she was a buyer and at that time, it was the 80s, buyers were flown all over the world and her passport was stamped in…my brother and I had no idea that she had traveled so much! And she had jobs here in Portland, Florida, New York City. So her collection of clothing was massive. I wish I had it. I don't, but in the pictures that I have of her, she's wearing outfits that nobody else around her were wearing. I remember my aunt told me that she wore a red dress to my aunt's wedding and that was a big deal. I think she was probably pretty adventurous and a chameleon. And exposed to so much at a time when we did not have Instagram or anything like that. We didn't have the Internet to really see what was happening all over the world…

R: Yeah. And I think that's something that's so important these days that we forget. It's like, nothing can beat that physical experience of being somewhere or seeing something. Instagram or social media can only take you so far.